Contact us
For questions about your own schedule/planning and the possibilities to follow courses at another institution, please contact your own study/academic advisor.
In case you have any questions that are not answered in the FAQ - e.g. concerning registration, administration and eduXchange.nl: please reach out to your home institution contacts below. We are happy to help you:
Frequently Asked Questions
Orientation
Who to contact for more information about a given course?
Information about course content should be directed to the course coordinator. His/her contact information is usually written down in the course description page along with all key course information. If this information is missing, you can find it in the host university website and/or study guides.
Will more courses be added to eduXchange?
EduXchange is a dynamic platform and more courses will be added throughout the year. Is there nothing for you now? There might be later.
What to do if I would like to follow a course which is not visible on this platform yet?
The advantage of this platform is that registering for a course at another institution could be done in just a few clicks. However, this platform does not contain all courses which are available at the different institutions. The intention is to increase the number of courses on the platform in the future, but for now only a selection is visible. For courses not offered on this platform, you can still register via the traditional way. Check out the website of the host institute for more specific information:
Do I need to pay additional fees to follow a course from this platform?
No, you don't need to pay any additional fees.
Scheduling
Who should I contact to see if and how a course fits within my programme?
It is always wise to contact your own study/academic advisor in advance about the possibilities to include external courses in your programme. Together with your study/academic advisor you could have a close look on how to fit a course into your regular programme and schedule. NOTE: if following external courses requires approval of your examination committee beforehand, it is your responsibility to arrange this. We will not check for this during the registration procedure/process.
Do I need approval of the exam committee and/or my study advisor before I can register for a course on eduXchange?
No, it is required for registration. However, we strongly advise you to consult either your study advisor and/or the Board of Examiners if want the course to be included in your program.
What should I do if exams are scheduled on the same date?
In such a case, contact your course coordinator or lecturer to discuss your options. Possibilities differ per institution.
What are the academic calendars for each institution?
Each institution has its own academic calendar with different start and end dates for courses, including the examination periods. You may check the links below for detailed academic calendars.
What are the timeslots for courses per institution?
Each institution follows a specific timeslot table. TU/e and UU work with an A,B,C,D, and E schedule, WUR has fulltime, morning or afternoon courses. To learn in which timeslot a course is offered, visit the host institution's course catalogue.
You can find the timeslot table or information for each institution here: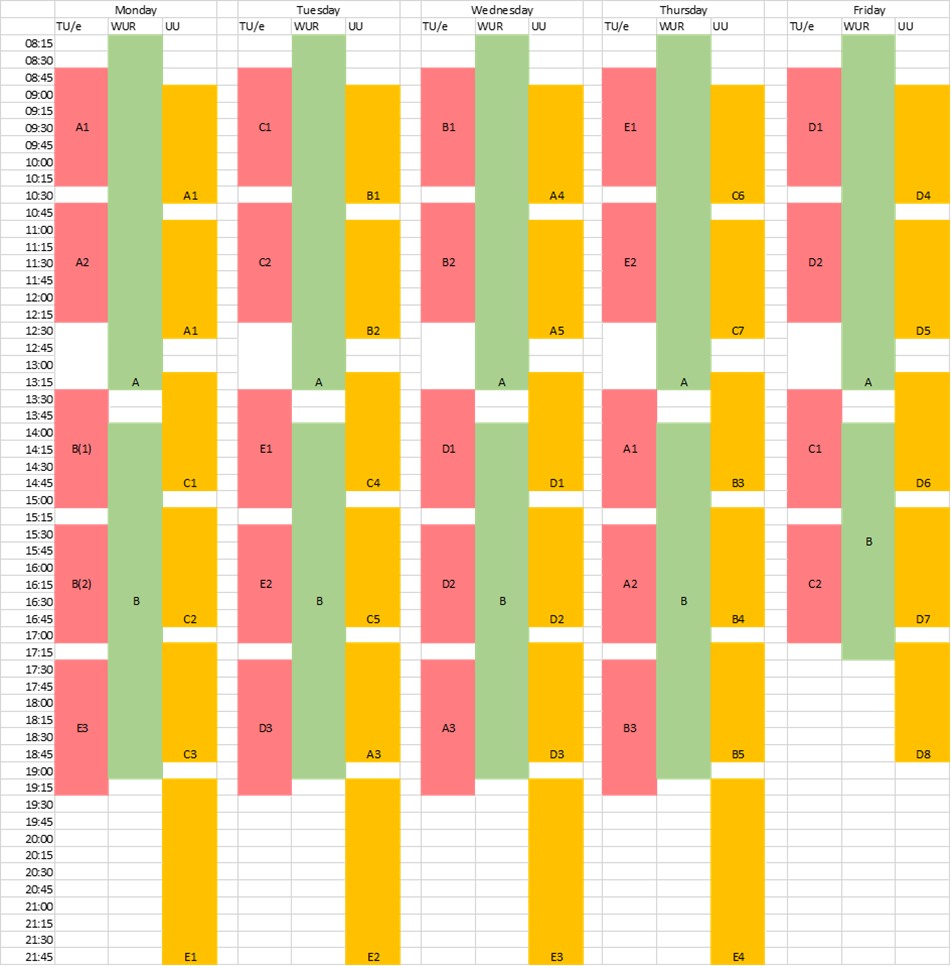 Should I travel to the other institution in order to follow the course?
The course design and attendance requirement can differ from one course to the other. In general, teachers are encouraged to use online and hybrid methods to increase the course's time- and place independency. The details are usually outlined in the course description. Therefore, have a close look at the course descriptions. If the information is missing, you are encouraged to contact the course coordinator or teacher indicating that you are an alliance student and ask for more information.
Registration and acceptance
What is an eduID?
An EduID is an account for users within education and research in the Netherlands. It is yours and exists independently of your educational institution. You oversee all your (personal) data, courses taken and grades. With eduID, you are recognized by your own institution, and you can also use it to identify yourself at another institution or to give permission to share data between institutions.
EduID is under development. In the future, you will be able to use eduID for many more things. For example, you can use eduID after your studies, as an alumnus, or during your studies, if you wish to follow classes at several institutions simultaneously. Please have a look at the eduID.nl webpage for more and the latest information.
It is recommended to use your default browser when creating your eduID and registration on EduXchange.
Why do I need to get an EduID?
The currently-used digital student identity lives only within your own institution. It has no meaning before and after your studies, or for other institutions. In order to encourage flexibility and lifelong development, SURF has created EduID as an alternative. With eduID, we create a digital student identity across the borders of an educational institution, which also makes access to administrative and educational processes considerably easier. Think of it as a DigiD for education.
Can all students that study at a Dutch university register for courses via eduXchange?
If you are fully enrolled at a one of the partner institutions, you can register for courses via eduXchange. If you are an exchange student for instance Erasmus, you cannot.
What to do if I want to cancel my registration?
It is not possible to cancel your registration via eduXchange.nl. If you would like to cancel your registration for a course, please contact the host institution via the e-mail addresses above.
What happens after I register?
After you have registered via eduXchange.nl, you will receive a confirmation email from the host institution. It will provide you with more information about if you are placed directly or put on a waiting list in the latter case, you might be redirected to the host institution's course catalogue to provide more information. The email will also include how to access the course, the digital learning environment of the host institution, and also who to contact if you encounter any problems. If you didn't receive this information, please contact the host institution via the e-mail addresses above.
Following the course & grades
When do I get access to the course/digital learning environment?
After registration, you will receive a mail with instruction on how to access the course/ learning environment. If you didn't receive this information, please contact the host institution via the e-mail addresses above.
How can I request special accommodation for examination?
All partner universities provide special accommodations for students with disabilities; however, facilities provided and approval procedure can differ from one institution to another. Students going from TU/e to WUR and the other way around with approved standard accommodation (dyslexia/ADD/ADHD/ASS) at their home institution, kindly use that approval letter/grant letter as the supporting document at the host institution when requesting a facility.
For more information you are advised to read more on the host institution websites:
Please note that approving some types of accommodations can require some time, so you are highly advised to contact the host institution during the first week of the course.
Do I need to register for the exam separately?
TU/e: A student who enrolls for a course is automatically signed up for all its modes of instruction as well as the test. WUR: A student who enrolls for a course is automatically signed up for all its modes of instruction as well as the test.
UU: This can differ per programme. We advise you to contact the programme you wish to follow to check how things are organised.
What will happen with my grades, and will they be transferred to my degree?
The grades you obtain by following the course will be sent to your home institution. Whether or not it will be part of your degree depends on the required permissions from for example your examination board. We strongly advise you to request such permission in advance.