(NL) Hi!
Eindhoven University of Technology offers courses via eduXchange.nl to students from Utrecht University and Wageningen University & Research as part of the EWUU alliance.
We're here to help with questions about scheduling and following a course at Eindhoven University of Technology. In case you have any questions that are not answered in this FAQ, please reach out to esa@tue.nl.
If you would like to follow a course which is not visible on this platform, please visit TUe Student administration.
Scheduling at Eindhoven University of Technology
Each institution has its own academic calendar with different start and end dates for courses, including the examination periods.
This information is extensive, and therefore maintained on the institutions own website. Please visit Academic calendar of Eindhoven University of Technology.
Each institution follows a specific timeslot table. TU/e and UU work with an A,B,C,D, and E schedule, WUR has fulltime, morning or afternoon courses. The image below shows the timeslots of TU/e, WUR and UU in one overview.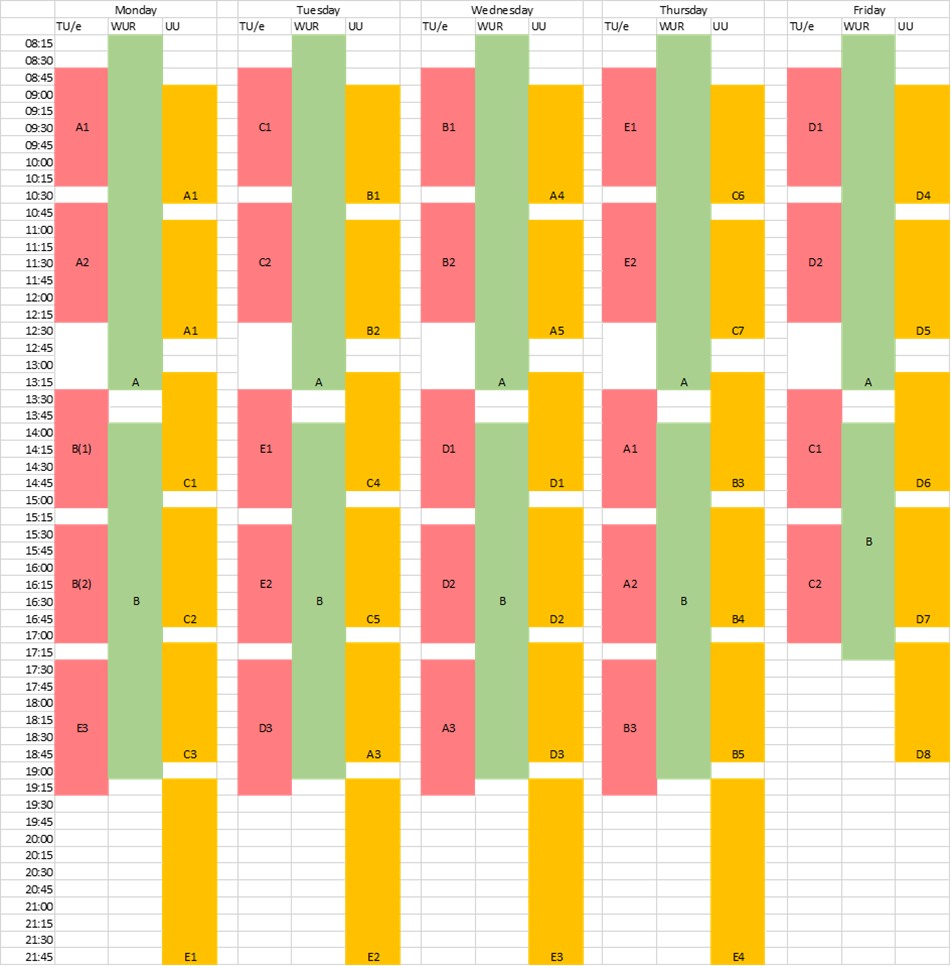 It is always wise to contact your own study/academic advisor in advance about the possibilities to include external courses in your programme. Together with your study/academic advisor you could have a close look on how to fit a course into your regular programme and schedule. NOTE: if following external courses requires approval of your examination committee beforehand, it is your responsibility to arrange this. We will not check for this during the registration procedure/process.
No, it is not required for registration. However, we strongly advise you to consult either your study advisor and/or the Board of Examiners if want the course to be included in your program.
In such a case, contact your course coordinator or lecturer to discuss your options. Possibilities differ per institution. At TU/e, there is limitation to accommodating such a situation at the moment.
The course design and attendance requirement can differ from one course to the other. In general, teachers are encouraged to use online and hybrid methods to increase the course's time- and place independency. The details are usually outlined in the course description. Therefore, have a close look at the course descriptions. If the information is missing, you are encouraged to contact the course coordinator or teacher indicating that you are an alliance student and ask for more information.
Following the course & grades at Eindhoven University of Technology
After registration, you will receive a mail with instructions on how to access the course / learning environment. If you didn't receive this information, please contact us via the e-mail addresses above.
All partner universities provide special accommodations for students with disabilities; however, facilities provided and approval procedure can differ from one institution to another. Students going from TU/e to WUR and the other way around with approved standard accommodation (dyslexia/ADD/ADHD/ASS) at their home institution, kindly use that approval letter/grant letter as the supporting document at the host institution when requesting a facility.
For more information see Studying with disability at TU/e.
Please note that approving some types of accommodations can require some time, so you are highly advised to contact the host institution during the first week of the course.
A student who enrolls for a course is automatically signed up for all its modes of instruction as well as the test.
The grades you obtain by following the course will be sent to your home institution. Whether or not it will be part of your degree depends on the required permissions from for example your examination board. We strongly advise you to request such permission in advance.